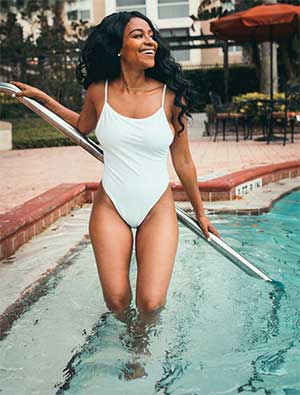 Having a pool party in Millburn, Short Hills, South Orange, Montclair, Summit or Essex County, NJ?
Are you ready to host your next pool party? Memorial Day Weekend is just around the corner. Throw some burgers and hotdogs on the grill and get ready to open that pool!
At Pugliese Pool Services, their staff will make sure your pool is in tiptop shape for your next holiday pool party. Their pool service company specializes in maintaining and renovating pools in Millburn, Short Hills, South Orange, Montclair, Essex County, NJ, and Summit. Along with making your pool looking fresh, make sure your pool is clean and safe for your friends and family.
Here's why: Pool season is about spending time and relaxing with family and friends. It's important to keep your pool clean so that algae are kept at bay and it's free from bacteria. Have fun playing pool sports and swimming in the pool without worrying about any water accidents.
Who doesn't want their pool looking good throughout the season? By renovating, retiling, remodeling or replastering, you can have your pool looking at its best. Pugliese Pool Services in West Orange, NJ can give your pool a fresh new look with just a few of these services they offer. Pugliese Pool Services offers pool makeovers, pool restoration, custom pool coping and tiling, stone, brick, and masonry.
Sometimes your pool may be in need of a makeover. If your pool looks dreary, you need experienced, construction and technology experts to give your pool a facelift. Pugliese Pool Service in West Orange, NJ offers a variety of tile and coping choices for your next pool makeover. Their experienced professionals repair and renovate the coping and tiling of your pool.
If your pool is in need of restoration, Pugliese Pool Service in West Orange, NJ does that too! They do interior resurfacing with Diamond Brite and River Rok, spa and waterfall repairs and resurfacing. In addition, they do installations of Deck-O-Seal sealants in the joints around the pool and patio.
Let's not forget; modernization of your pool equipment is important as well. Pumps, filters, heaters, remote systems, cleaners need to be updated and Pugliese Pool whom services Millburn, Short Hills, South Orange, Montclair, Essex County, NJ, and Summit can take care of that for you. Their pool experts will provide you with step-by-step details on how they provide a high level of quality and workmanship throughout your pool renovation.
Brenda L. was thrilled to write a 5 Star review for Pugliese Pool Services. Hear what she had to say,
"Pugliese was our favorite choice but we originally went with a cheaper competitor who ended up being a nightmare. Amex got our money back and we went right to Tom and his guys for construction. Any kind of major changes to the current landscape can be hard with unforeseen problems but Pugliese was very upfront about those possibilities and we worked through any hiccups. Tom and his crew were such a pleasure to deal with. Very professional and courteous. And considering we saw firsthand how the competition works, you truly get what you pay for! We absolutely love our pool and have enjoyed numerous summers without any problems. I also recommend their pool service to regularly clean and maintain the pool. Alex has helped us several times at the last minute with quick repairs by his employee Sean before hosting large parties...the pool always looks spotless. You won't be disappointed!"
So make sure your next pool party is a hit. Have Pugliese Pool Service in West Orange, NJ restore your pool to look its best. Visit their website for a list of additional services and contact them at 973-736- 8184 for your next pool outing.
Contact Pugliese Pool serving Millburn, Short Hills, and South Orange, NJ at 973-736-8184 or email them.